Mako Networks 7550 Gateway, Network Security Appliance and VPN Concentrator
The Mako Networks 7550 Gateway is designed to provide a Internet gateway for large business offices, remote hub sites and general use where security is a high priority. This model comes in a version for an ADSL connections or for a Ethernet connection to a fibre network infrastructure. Dual Mako Networks 7550's provide High Availability (HA) fail over and restore automatically, without losing inbound VPN connections.


Each version of the Mako 7550 Gateway is available in a lite and full version, supporting up to 100 users and 50 concurrent IPSec VPNs (lite version), or 250 users and 100 concurrent IPSec VPNs (full).

The Mako Networks 7550 Gateway has three key Functions:
- World-Class security for larger business networks
- Virtual Private Network concentrator
- High-throughput gateway

The Mako Networks 7550 Features:

Firewall - includes inbound/outbound, stateful inspection, port scanning protection, worm detection,
Advanced NAT features available
AES - 128 or 256 bit encryption
ADSLor Ethernet connection for the OpenNet fibre Network
High Availability failover for dual Mako Networks 7550 Appliances for both ADSL and/or Ethernet connections with automatic restore
Router - TCP/IP router to provide access to the Internet, connecting via Ethernet at speeds up to 100 Mb per second
LAN Ports - four independant on different IP ranges
VPN's - either from mobile device or between Mako Networks Security Appliances through the cloud-based Central Management System
VPN's - three - click setup process between Mako Networks Appliances - build a mesh network in minutes, static IP's not required
VPN's - Lite version: 50 concurrent IPSec, 40 concurrent PPTP
VPN's - Full Version:100 concurrent IPSec, 40 concurrent PPTP
DHCP Server - standard on all Mako Networks appliances
QOS - configuration of bandwidth of outbound traffic types from the Central Management System - CMS
Dynamic DNS - supported on all Mako networks appliances


Console management System ( CMS ) configuration and management via the Web, access from "Anywhere"
Full Configuration of every appliance from one management console - udated every two minutes
Diagnostics and syslogs stored and accessible via the Central Management System
Configurable and ad hoc reports, graphical and tabular presentation - delivered to your email inbox


Guardian Web Content Filtering


PCI DSS ( Payment Card Industry Data Security Standard ) - compliant - certified to Level 1 criteria
Mako Networks 7550 Appliance Gateway Brochure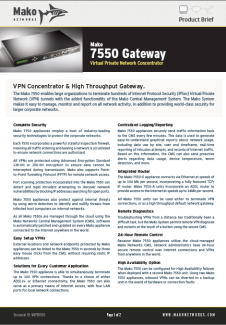 Download the Mako Networks 7550 bochure that contains a comprehensive statement of the technical specification, compliance statements and Awards - down load the pdf version by clicking the Brochure thumb print.






Security Appliance Mako Networks 7550 is created and developed by Mako Networks
IT Consulting & Services in Singapore Sells and Supports Mako Network Products
Mako Networks and IT Consulting and Services entered into an agreement in September 2012 where IT Consulting and Services will sell and support Mako Network products in Singapore. The Mako Networks range of security appliances also includes datacentre-grade Internet gateways and larger VPN concentrators. Please refer to other pages on our site for the Mako 6500 and 8875 models
For further information on using Mako Networks Security Appliances, pricing information and proposals, Contact Sales at:
- Office: +65 6650 8750
- Mobile: +65 9780 2788
- ITCS eMail: Sales@itcs.sg

we would be delighted to help you.
Return to ITCS Home page
To discuss your Services requirements, please Email ITCS Now- Thank you.
Mako Networks range of Products and Services
Mako offers four Network Appliances, two of these the 6500-E and the 6500-A2 are targeted at small sites and businesses, the Mako 7550 is for larger sites with additional capibilities as a Virtual Private Network Concentrator and as a High Throughput Gateway.

The Mako 8875 for the data centre and is designed for high availability, a Virtual Private Network Concentrator and as a High Throughput Gateway.

Some of these applicances have more fucntionality by adding additional licenses and all can be part of a Payment Card Industry Data Security Standard PCI-DSS certified systems to level 1.
Go to information on Mako Networks 6550-E and 6550-A2 Network Security Appliance with 3G fail over
Go to information on Mako Networks 7550 Network Security Appliance and VPN Concentrator
Go to information on Mako Networks 8875 Network Security Appliance and VPN Concentrator
Go to information on Mako Networks- CMS Central Management System
---
Mako References - Edinburgh Fringe Festival - UK
The annual Fringe Festival in Edinburgh showcases some of the world's greatest emerging comedy talent. Underbelly's revenue during the Festival, chipping in at least 50 percent of earnings. In each of these venues, it's critically important for Underbelly to accept credit cards in addition to cash. Besides faster transactions, IP-based broadband can also offer significant cost savings versus traditional dial-up connections.



"When we ran the first transactions over our new payment network, it was like – woah! – it was so much faster. It seemed to me like 15 times as fast. said Marina Dixon,

For more information on the implementation of Mako Network Appliances at Underbelly Fringe Festival in Edinburgh.
---


Return to ITCS Home page