Mako Networks 8875 Gateway, Network Security Appliance, VPN Concentrator and High Throughput Gateway
The Mako Networks 8875 Gateway is designed to provide a internet Gateway for large business offices, remote hub sites and general use where security is a high priority. This model comes in two versions, the 500 model and the 1000 model. Dual Mako Networks 8875's High Availability (HA) provide fail over and restore automatically, without losing inbound VPN connections.


The Mako 8875 Gateway is available in a 500 and 1000 model, supporting up to 500 concurrent IPSec VPNs and 1000 concurrent IPSec VPNs respectively.

The Mako Networks 8875 Gateway has three key Functions:
- World-Class security for larger business networks
- Virtual Private Network Concentrator
- High Throughput Gateway

The Mako Networks 8875 Features: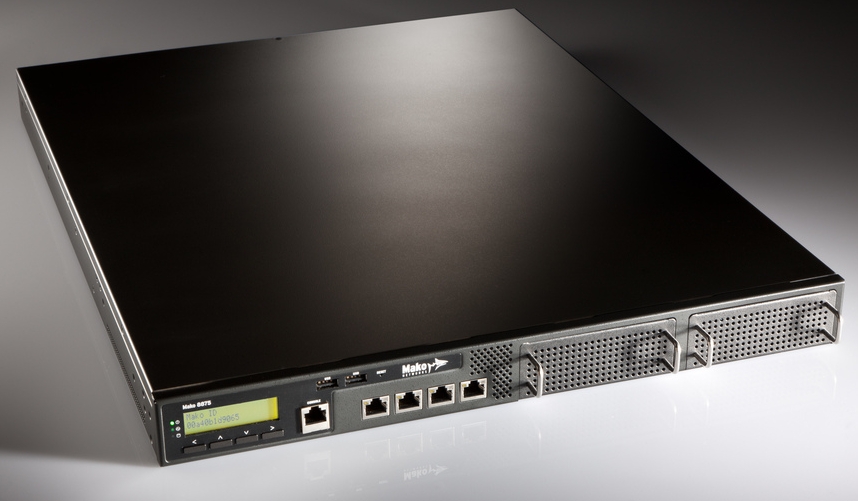 Firewall - includes inbound/outbound, stateful inspection, port scanning protection, worm detection and more
Advanced NAT features available
AES - 128 or 256 bit encryption
Ethernet connection for the OpenNet fibre Network at 1 Gb per second, requires a public static IP on the WAN port
High Availability failover for dual Mako Networks 8875 appliances with automatic restore and each unit containing dual power supplies
LAN Ports - 3 independant on different IP ranges
VPN's - either from mobile device or between Mako Networks Security Appliances through the cloud-based Central Management Systems CMS
VPN's - three - click setup process between Mako Networks Appliances - build a Mesh Network in minutes
VPN's - 500 model: 500 concurrent IPSec, 20 concurrent PPTP
VPN's - 1000 model: 1000 concurrent IPSec, 40 concurrent PPTP
DHCP Server - standard on all Mako Networks appliances
QOS - configuration of outbound traffic types from the Central Management System - CMS
Dynamic DNS - supported by all Mako Networks appliances


Configuration and management via the Web, accessible from "anywhere"
Full configuration of every appliance from one Mako Central Management System
Automatic software updates distributed by the Mako Central Management System, updated every two minutes
Software update for the Mako Networks 8875 automatically from Mako Networks console
Diagnostics and syslogs stored and accessible via the Central Management System
Configurable and ad hoc reports delivered to your email inbox


PCI DSS ( Payment Card Industry Data Security Standard ) compliant - certified to Level 1 criteria
Mako Networks 8875 Appliance Gateway Brochure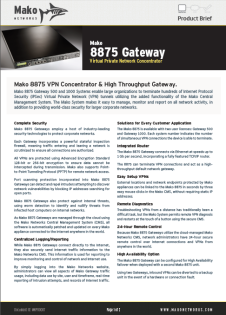 Download the Mako Networks 8875 brochure, which contains a comprehensive listing of technical specifications, compliance statements and awards - download the PDF version by clicking the brochure thumbnail.






Security Appliance Mako Networks 8875 is created and developed by Mako Networks
IT Consulting & Services in Singapore Sells and Supports Mako Network Products
Mako Networks and IT Consulting and Services entered into an agreement in September 2012 where IT Consulting and Services will sell and support Mako Network products in Singapore. The Mako Networks range of security appliances also includes datacentre-grade Internet gateways and larger VPN concentrators. Please refer to other pages on our site for the Mako 6500 and 7550 models.
For further information on using Mako Networks Security Appliances, pricing information and proposals, Contact Sales at:
- Office: +65 6650 8750
- Mobile: +65 9780 2788
- ITCS eMail: Sales@itcs.sg

we would be delighted to help you.
Return to ITCS Home page
To discuss your Services requirements, please Email ITCS Now- Thank you.
Mako Networks range of Products and Services
Mako offers four Network Appliances, two of these the 6500-E and the 6500-A2 are targeted at small sites and businesses, the Mako 7550 is for larger sites with additional capibilities as a Virtual Private Network Concentrator and as a High Throughput Gateway.

The Mako 8875 for the data centre and is designed for high availability, a Virtual Private Network Concentrator and as a High Throughput Gateway.

Some of these applicances have more fucntionality by adding additional licenses and all can be part of a Payment Card Industry Data Security Standard PCI-DSS certified systems to level 1.
Go to information on Mako Networks 6550-E and 6550-A2 Network Security Appliance with 3G fail over
Go to information on Mako Networks 7550 Network Security Appliance and VPN Concentrator
Go to information on Mako Networks 8875 Network Security Appliance and VPN Concentrator
Go to information on Mako Networks- CMS Central Management System
---
Mako References - FIX Convenience Store chain
The FIX store concept has proven popular, with millions of customer transactions processed each month across the company's 12 location network. Grant Sutton, IT Manager for Star Metro - " the systems used in FIX stores to provide better reliability, visibility and reporting"



"We ended up building 27 POS systems all up for the stores plus one petrol station," says Grant.

The largest challenge for the new FIX store networks arrived in September 2011, when New Zealand played host to the Rugby World Cup. "We had queues of people 30 deep in the store for the Rugby World Cup. It was by far the busiest time we've ever had. We even had to set up a temporary POS terminal in the store to deal with the overflow."

For more information on the implementation of FIX Convenience Stores POS Terminal Network.
---


Return to ITCS Home page